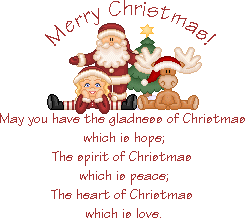 MySpace background: CoolSpaceTricks.com

Hello everyone! :) I hope that you all have a wonderful and much blessed Christmas filled with as much friendly and family togetherness as you could wish for. :) Both Mareena and I are feeling fine, although perhaps just the slightest bit blah (not necessarily ill, but just wanting to take it easy for today) - we still intend to enjoy Christmas to the fullest! :)


The kitties are really getting into the Christmas spirit - 'Santa Paws' bought them a stocking full of catnip and kitty toys, and the purrs of thanks are resounding around the room. Lollipop and Leila are currently getting into minor fistipaws over who is going to get to play with the feather bells first (I'm not sure that the twins even realize that there are actually four feather bells in the stocking, so there is one for each of the girls, plus one extra!)

Ruby is currently fascinated by the bag of catnip. I opened it for her and she went over the moon! :) She sniffed in the bag, jumped up and rubbed her chin between a couple of gift bags in order to get a chance to investigate a little more closely.

At some point, Leila and Lollipop found out what Ruby was doing and ambled over to see what was going on. So the party had to be moved to the floor - Ruby went over to a special little spot of her own and ate up her catnip treat; and Leila and Lollipop rolled around on the floor like a couple of kittens for a while, and then the twins finally ate their catnip. Fun was had by all - humans and kitties alike!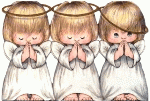 Till we Meet Again, Glow Brightly as Moonlight